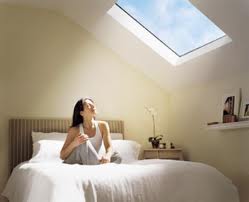 Do you have a home that seems dark inside? Would you like to brighten your home up without using more electricity? The answer is simple, have skylights installed in those dark areas of your home and use natural light, it's free and energy efficient! Even on those cloudy days you can get enough light to brighten a dark area.
There are different types of skylights for different types of situations. The tube type skylights offer natural light at a fraction of the cost of a curb mounted glass skylight. A tube skylight can be installed in areas that a standard skylight cannot. If you are looking to get light into a room and you are not worried about wanting to see out of the skylight then a tube type skylight is for you.
A standard skylight is typically installed on a wood curb and has a framed skylight well. The skylight allows you to see outside and will bring in a lot of light, depending on the size installed. Installation of these types of skylights are a small remodel project in itself due to the amount of labor needed to install them. However, when installed they add light and a certain modern look to your home.
You may have heard people saying that skylights in the Pacific Northwest often have leak issues. Well this is true but only if they are installed incorrectly. If the roof flashing is installed correctly a skylight will not have any problems with the weather. Finding a contractor to install the skylight and install the roof flashing properly is key to having a no leak skylight.
Regal Roofing & Contracting can help you with your skylight needs. Regal Roofing and Contracting has the knowledge to properly install those skylights so that weather will never be an issue. Call Regal Roofing & Contracting to consult with you on what skylight would benefit you the most. Regal Roofing & Contracting has been installing skylights in King County, Snohomish County and areas around Seattle for many years. They have installed them in metal roofs, asphalt composition shingle roofs, cedar shake roofs and low slope roofing. Give Regal Roofing & Contracting a call today to start planning your skylight project!