Do you really know what your are paying for when you have your roof replaced? Did your roofing contractor provide you with a detailed scope of work? A good roofing contractor will provide you with a detailed scope of work so that you can really compare apples to apples when deciding which contractor to choose and it will also let you know what you are paying for when replacing your roof.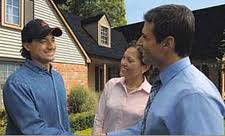 You may not know what each item on the scope of work is and it is a good idea to understand these items. With access to the internet it makes it possible to understand the components that are used to install your new roof. The roofing manufacture websites, such as Certainteed, contain a great resource for finding this information. The roofing contractor that provided the bid should be able to explain these components as well.
A good work scope might include the following items in the list:
Roof Area: Roof area will let you know how big your roof is and a good gauge to let you know if the contractors have bid the same area.
Removal: The contractor should tell you how many layers of roof are being removed and how he intends to get rid of the debris.
Sheathing: Will the contractor address any sheathing issues? Is he installing new sheathing? He should specify the sheathing type.
Flashing: Is he installing any flashing at the gable and eaves of the roof? It is a recommendation to have this flashing installed.
Underlayment: What type of underlayment is the contractor installing. Heavier underlayments and synthetic underlayments are the best for the Pacific Northwest climate.
Roof Starter: This item is optional to the list since it is a required item in most roofing systems.
Roofing Material: Lets you know the intended type of material to be installed.
Fasteners: Lets you know what type of roofing fasteners will be used to install your new roof. Zinc is good and Stainless Steel is the best.
Valley: If your home has valleys this item should tell how the contractor will address this area. Metal valley flashing is preferred.
Chimney: This should let you know if the contractor is replacing the roof flashing and if he is replacing the counterflashing.
Skylight: If your home has skylights the contractor should let you know how he intends to address the skylights.
Plumbing Flashing: This will specify what type of flashing will be used. Neoprene flashing is not the best choice here.
B-Vent: Will the contractor replace the B-vent flashing (furnace pipe or stove pipe flashing)? this flashing should be replaced.
Duct & Kitchen Fan Vent: The contractor should replace these vents as they provide direct venting of your bathroom and kitchen fans.
Attic Vents: Will your contractor address the attic ventilation that is required in your home? The good contractor will vent the attic to a minimum ratio of 1:150 square inches of net free ventilation.
Intake Vents: For any attic vents to work properly your home must have sufficient intake venting installed in the soffits. Will your contractor address this item?
Sidewall Flashing: Will your contractor replace this flashing? It is recommended to replace this flashing with a flashing size that is specific to the roof being installed.
Endwall Flashing: Will this flashing be replaced? This flashing does not necessarily need replaced if it is in good condition.
Ridge Cap: This should let you know what type of ridge cap the contractor will be installing.
There might be other items listed that will let you know about the specific items on your roof and how the roofing contractor intends on addressing these items. If anything was promised to you make sure the list has included that promise.
Knowing the scope of work will enable you to not only know what you are paying for but will allow you to understand the re-roof process. Be sure the contractor you select provides you with this important part of his proposal. Regal Roofing & Contracting will always provide you with a written scope of work for the replacement or repair of your roof.